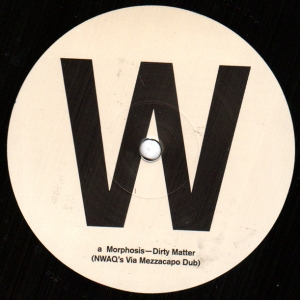 Morphosis - WHWL - Remixes Part 1 - 12" - MMD-R1
Morphosis - Dirty Matter (NWAQ's Via Mezza..
Morphosis - Androids Among Us (Just For One Day Remix)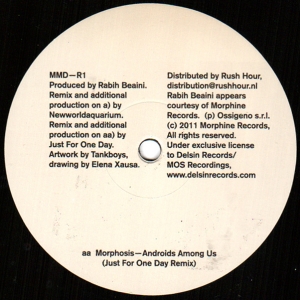 When this idea came about, there was some speculation here if it was a going to be plausible prospect. Throughout all the deliberation one fact remained: Re-workings from these artists would make the perfect precursor 12" to the full Morphosis album, and it just HAD to happen. Then it did.
NWAQ turns in one hell of a dub! An almost relentless 7.5 minute float, that's underpinned with thriftily placed percussion, and a true beast of a kick drum. No build-ups. No break-downs. So, now.. let's all bow towards to the master.
Just For One Day's rudeboy drum palette is going to be familiar to more than a few people. Let's just say that this is the new guise of a veteran German producer who's uncompromising music has graced some of the world's most exciting record labels over the past 15 years. For this remix he hijacks the "Android's Among Us" and throws them right into a sound system shoot out somehow leaving the core elements from the original track in tact. Seriously killer.